This ticket is valid for two adults with any number of children from 6 to 17 years old.
Willkommen

Nur noch wenige Klicks trennen Sie von Ihrer Reise in unsere Erlebniswelt! In Trauttmansdorff erwarten Sie 4 Gartenwelten mit über 80 Gartenlandschaften, vielfältige Blühhöhepunkte und eine vergnügliche Reise durch 250 Jahre Tourismusgeschichte. Jetzt müssen Sie sich nur noch für einen Tag entscheiden.
IHR Vorteil
Mit dem Online-Ticket haben Sie bevorzugten Eintritt über den eigenen Online-Eingang im Besucherzentrum.
GÜLTIGKEIT
Die Tickets sind am ausgewählten Tag ab 9.00 Uhr gültig. Der Einlass ist immer bis eineinhalb Stunden vor Schließung möglich. Bitte kontrollieren Sie die
Öffnungszeiten
.
Bezahlung
Trauttmansdorff ist eine öffentliche Einrichtung, deshalb müssen Zahlungen ausschließlich über das pagoPA-Zahlungssystem erfolgen. Sobald Sie auf Bezahlen klicken, werden Sie automatisch auf das Südtiroler ePayS-Zahlungsportal weitergeleitet.
Auf dem pagoPA-Zahlungsportal können Sie sich entweder mit Ihrer E-Mail-Adresse oder Ihrem SPID (digitale Identität) anmelden. Bitte beachten Sie, dass zusätzlich zu den Kosten für Eintritt bzw. Führungen, Spesen von 1,00 € bis 2,00 € für die Transaktion anfallen.
Es stehen folgende Zahlungsmethoden zur Verfügung:
Kredit- / Debit- / Prepaid-Karte

Belastung des Girokontos durch Auswahl von MyBank (nur italienische Bankinstitute)
Stornierung
Das Stornieren des Online-Tickets bzw. eine Rückerstattung ist nicht möglich.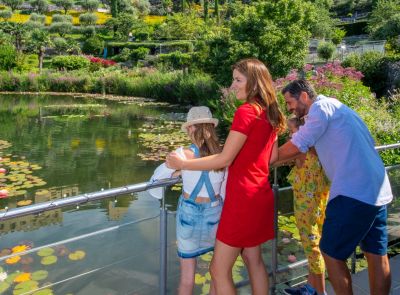 Payment
The ticket includes:
Entry to the Gardens
Entry to the Museum of Tourism
Entry to the special exhibition
This ticket does not have to be printed out: Visitors can scan the QR code with a smartphone.
Pets are not allowed to enter the Trauttmansdorff!
Paid car park available at the Gardens.
Free admission for children up to 6 years old.
All bathrooms are equipped with changing tables. All family attractions and steep trails are indicated in the orientation map.